Back To Our Services
We press so many buttons daily that we forget that behind simple remote controls hide complicated mechanisms, which need constant care and maintenance. In fact, we forget that behind the façade of garage doors hide hundreds of different components, which must work perfectly with each other in order for the door to operate properly as well. There are small components, little screws, hinges and major garage door parts, such as the springs or the cables and the tracks.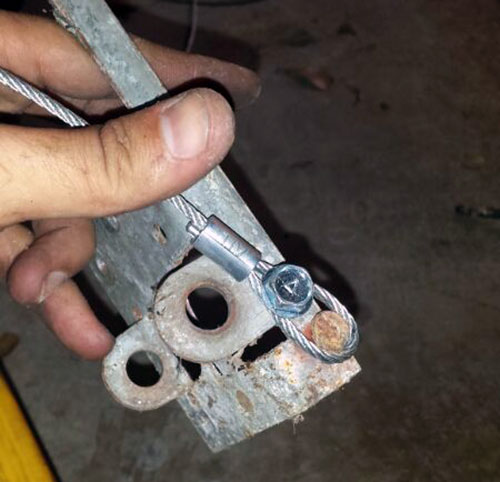 Each one of these parts plays a major role to the ultimate performance of the door and if one of them is out of order or wears down over time, the entire system may fail. We, at Garage Door Cables and Tracks Gladstone, are aware of the great importance garage doors play for home security and family protection. Who wants to go to work leaving behind him a half open door? Garage doors do not only provide security of your property, but they also constitute major insulation units due to their huge size, and their strength and good working condition of all garage door parts would determine their defense against intrusions or elements. Imagine that a tiny gap between the closed door and the floor would allow the rain water entering your premises or small animals sneaking in. A broken garage door window would let rain fall straight into your garage and won't help you save energy.
Now, imagine what would happen when major garage door parts are out of place or broken!
Garage door cables are considered vital parts of your door because they lift the door up and lower it down as the springs carry the door's weight and the opener gives the order to operate it. If one of these components, the cables in this case, fails to deliver work due to damage, the whole system would fail. Loose cables will continue to work, but they won't do a good job; the movement of the door will slow down and there is always the risk of breaking up completely. Of course, a broken cable means dysfunctional garage door and who wants to have a door that doesn't function?
These are routine tasks for the technicians of our company in Gladstone. In fact, snapped cables should be replaced only by professionals. Our technicians are well equipped and trained to repair the cables as well as the bent or broken tracks, which may result to the garage door off track. They will do the proper adjustments, repairs or replacements because they have the knowhow and the right tools. Some things cannot be fixed by untrained people because the tension hidden behind the cables, for instance, may injure you. Besides, you would need proper equipment and lots of time to follow instructions with uncertain results. Garage Door Cables and Tracks Gladstone is a special department of our company that specializes on garage door problems related to tracks and cables. Why should you waste your time and money on diy repairs, when you can have peace of mind that your garage door will work fine once our technicians show up at your door?
Back To Our Services